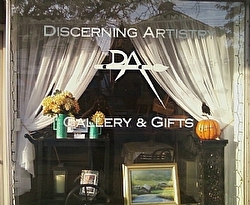 Window of My New Studio
I am finally in my new studio and it is very exciting as well as unsettling. In my old studio I did very little adjusting once I moved in. I was off and running with paints and canvas each time I was there. My new studio is better in so many ways so it should be easy to settle in here. It is on the first floor instead of the fourth (no more stairs to trudge up). It has a great tin ceiling and is very cozy. It has heat (and air conditioning if I need it). It has windows and they open to the breeze.... hooray ! One of the windows is a large one that faces the street. I am in a very small storefront on the main street of the village. Since people pass by all the time I couldn't leave the window empty so I set up a little display. That led to getting signage so people aren't wondering what it's all about. Now it looks inviting and I am going to open the studio for the public during certain afternoons (exciting, right?.. human contact at controlled intervals). I am also going to have other artists' works there on commission to make it interesting and not all about me. There are village events several times each year and I am in a perfect spot to participate and meet new people. The Christmas on the Avenue event is always fun and it gives me incentive to create some new cards for sale.I am so very lucky to be here. The problem I have is my private studio area. I have the back of the storefront but can't seem to get the tables, easels and chairs in sync. I have been working on a new painting when I have been able to get down here (the big mom move is still ongoing) and it is coming along well enough, but I seem to have the new studio flu. Anyone else been through this? The comfort level is not quite there yet and I have not snuggled in. Maybe there is something to the suffering artist myth. I certainly had lots of problems in the old studio. Who knew my muse could be so fussy. Maybe I need more hours here quietly soaking in everything; the atmosphere, the light, the privacy, the change. Maybe I need to convince myself that my art is worthy of this beautiful new space and deserves to be here. I'll keep you posted.
Comment on or Share this Article →
Well I spent the weekend moving my huge amount of stuff into my new studio. It was tough going but thanks to my husband John, Sarah, my daughter and her boyfriend Todd we got everything down four flights of stairs and safely deposited in my new location. I will be painting the walls and setting up things for the next couple weeks but I am getting a really good feel from the new place. It is very exciting to set things up just the way you want them even though I am sure it will take weeks of tweaking to get it just right. For now the walls and ceiling need painting and I also have some wallpaper stripping to accomplish at my mothers new house and then I can get back to work. I can't wait to start painting again. Art has become my addiction and each day I am unable to paint I obsess about it more. My easels and paints are calling me. I need to get back into a regular routine again. Until then. . .
Comment on or Share this Article →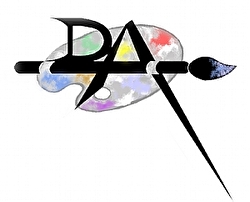 New Logo for Studio on Main Street
Well I guess things really can spin on a dime. A few days ago I was depressed over losing my workspace and today I have found a new little studio space and also resurrected some old dreams. When I left Verizon I had intentions of opening up a little storefront close to home and having a studio there. I wanted to paint full time and eventually teach some art classes. That dream changed direction when I first got my studio in downtown Schenectady. In the three years since, I have bounced around a bit and forgotten my plans. I am bringing back to life my original dreams and giving it a try. I donít want to look back in ten years and say I should have done it when I had the chance. My new space is in a small lovely storefront on the main street of Scotia. Itís close to home, a short fifteen minute walk. So, as of September 1st I will be moving into Discerning Artistry Studio at 147 Mohawk Avenue. I will probably be open to the public with restricted hours for studio visits sometime in October. I am excited and if in six months I fail then its back to the drawing board (literally) at home again. At my new location I will be there by myself and it's a bit more rent than I am used to but but if you don't try you never know. Wish me good times and good fortune.
Comment on or Share this Article →