Light and Shadow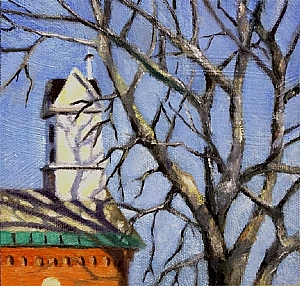 Medium: Oil on RayMar Archival Panel
Size: 6 x 6
Price: $65.00 USD
Availability: Available

Click to zoom in
Contact the artist about this artwork
Gallery Info
Discerning Artistry (My Working Studio & Gallery)
518-573-5109
Artist Comments
I see the spire of the First Baptist Church here in Scotia every day when I go to my studio.
The bare tree branches make beautiful patterns on the roof and were just waiting to be painted.
This painting is sold framed in a 3 inch gold plein air frame.
The price does not include shipping... if you are not local please contact me to adjust the price before purchasing.